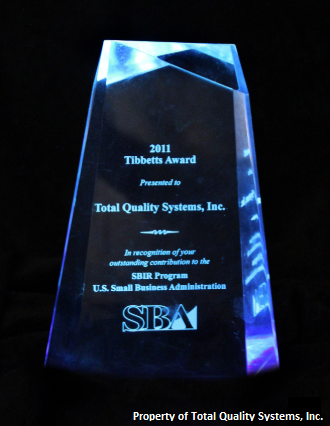 "Companies like TQS represent the best in American ingenuity."
-Sean Greene, SBA's Associate Administrator for Investment and Senior Adviser for Innovation
Total Quality Systems, Inc. (TQS) was founded in 1994 on the principles of innovative process and product improvement. We are a high technology company recognized nationally by the 2011 Small Business Administration (SBA) Tibbetts award for our innovative products and services. The annual Tibbetts Award is presented each year to a small business judged to exemplify the best in the Small Business Innovative Research (SBIR) program.
TQS's innovations are born from the needs of the world's most complex and demanding supply chain that supports the U.S. Air Force. TQS has experience throughout the entire supply chain from procurement, sustainment analysis and planning, to maintenance, repair and overhaul; we provide solutions that yield significant cost savings and/or avoidance to our clients.
Few companies can claim that they have helped their clients save over $1 billion in sustainment dollars, especially clients in complex and demanding supply chains, but TQS can. TQS innovations have played a significant role in helping the USAF F-16 Program Office save over $300 million to date and cost avoidances of $923 million are projected by 2030.
Our awards are a testament to our ability to hire skilled professionals who work together to provide effective and innovative solutions that yield best in industry results. No product had ever won the Great Maintenance Idea award at the annual Department of Defense Maintenance Symposium and Exhibition twice until TQS's Intermittent Fault Detection and Isolation System (IFDIS) did in 2010 and 2012. Competing nationwide with other great idea submissions, IFDIS was solidly voted as the winner in each case.
TQS has also been recognized by the SBIR/STTR Program Office with a 2018 Certificate of Recognition for providing innovative solutions to meet critical warfighter technical challenges by partnering with the Air Force to accelerate the transition of SBIR/STTR-developed technologies into real-world military and commercial applications.
TQS was also recently presented with a Commercialization Readiness Program (CRP) award by the U.S. Air Force recognizing our strong partnership with the Air Force to transition innovative technologies into real-world military applications. This award acknowledges TQS' long and continued support to the Air Force by fielding new technology into the hands of Warfighters and those that sustain their capabilities.
TQS Accolades
U.S. Air Force Commercialization Readiness Program (CRP) award
Two Time Department of Defense (DoD) Great Maintenance Idea Winner
Small Business Administration (SBA) Tibbetts Award Winner
Air Force Material Command (AFMC) Best Practice
SBIR | STTR Program Office Certificate of Recognition
More Information About TQS
We are proud of our achievements helping our Department of Defense (DoD), Defense Logistics Agency (DLA), US Air Force, US Navy, US Army, National Oceanic and Atmospheric Administration (NOAA), and Commercial clients and we know that we can achieve similar results for you. The following are examples of the products and services that we provide to our clients. Contact us for additional details and to discuss how we can satisfy your requirements. Please feel free to explore each of them by clicking the respective button below.